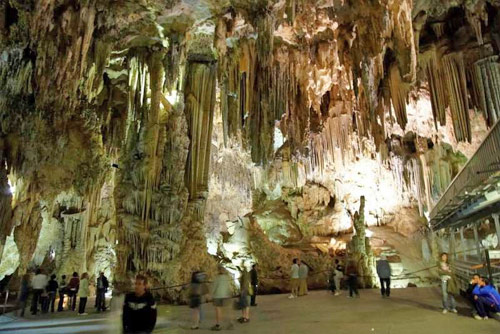 Luis Díaz picked up the recognition at the Geological and Mining Institute of Madrid.
The president of the Cueva de Nerja Foundation, Miguel Briones, has valued the distinction received by the Association of Spanish Tourist Caves (ACTE) in the framework of its twentieth anniversary and has underlined "the importance of the grotto as founder of this association, the relevance of the Cave of Nerja in the field of underground tourism and the sum of the impulses that this entails towards the candidacy that we defend before UNESCO, since it is a priority of this entity to make compatible the conservation and scientific research of the cave with its tourist and cultural diffusion ".
For his part, the manager of the Foundation, Luis Díaz, who received recognition at the Geological and Mining Institute of Madrid, recalled "the role of Nerja as a founding grotto in 1997, even hosting its headquarters for some years ", adding that," thanks to the work carried out in recent decades, the association now comprises more than thirty cavities throughout the Peninsula, the Balearic Islands and the Canary Islands ".
In this sense, he has highlighted "the interest of promoting underground tourism, as well as promoting the conservation and sustainable use of tourist caves," appealing to "the need to promote studies and technical and scientific advances that contribute to a better knowledge and diffusion of the underground world among the population ".
In response to this distinguished position, "the Cave of Nerja hosted last year the sixth edition of the Spanish Congress of Cuevas Turísticas (Cuevatur), considered the meeting point par excellence of both professionals and entrepreneurs of the underground world and the technical and scientific community, "the manager of the Cueva de Nerja Foundation recalled.
This distinction "also serves to highlight the advances of the Nerja cavity, discovered in 1959, which is currently positioned as a cutting-edge grotto in research and conservation both nationally and internationally," he warned.
From Nerja, along with five other cavities, the creation of the Association of Tourist Caves was promoted to give impetus to "a sector that, unquestionably, has been fundamental for the development of this municipality and the region of the Axarquía" , Diaz has concluded.
---
Source: https://www.infonerja.com/noticias/la-cueva-de-nerja-recibe-la-distincion-al-merito-en-turismo-subterraneo