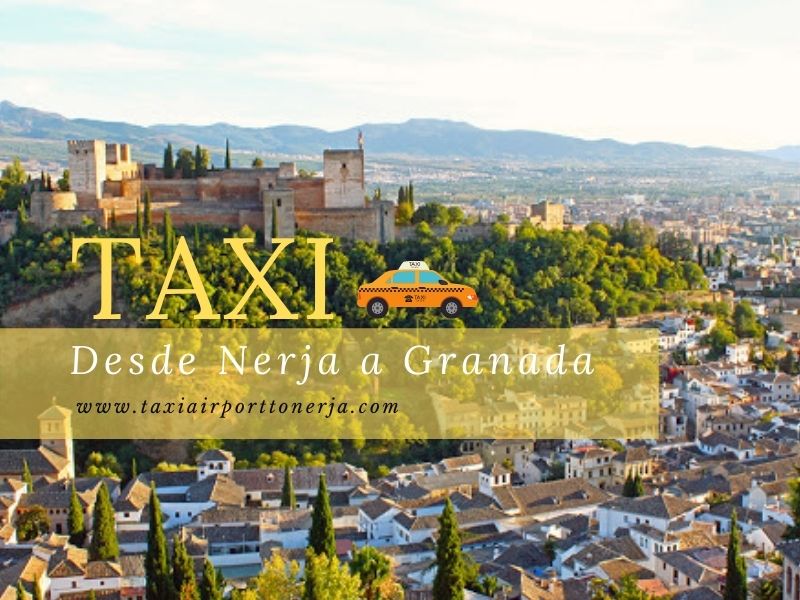 If you want to know how to travel in a taxi from Nerja to Granada, we will give you all the details. This city is located in the Comarca de la Vega de Granada, approximately 94 km from Nerja. Consequently, a taxi is the best way to get to Granada from Nerja.
CAB NERJA GRANADA
You can book the Nerja-Granada service online through our website or by calling 952 52 27 90. The advantage of this is you can confirm your reservation instantly, and you can also pay at the end of the transfer.
In addition, Nerja cab service is fast and reliable, reducing the need for you to use your own car. On the other hand, Nerja Granada taxi prices are reasonably affordable, especially when taking into account the speed, safety, and comfort in transfers.
But that´s not it, Nerja cab drivers are professionals who know the best routes to take you to your destination on time. Even if you have an emergency or need to travel last minute, Nerja taxi service is always available.
HOW MUCH IS IT A CAB FROM NERJA TO GRANADA?
If you are thinking of traveling to Granada soon, you are probably wondering how much a taxi costs from Nerja to Granada. The first thing to keep in mind is that the Nerja fare cab depends both on the distance and the number of passengers.
To have a clearer idea about the price, you can check the Nerja fares. Currently, the cab from Nerja to Granada costs €110, traveling from 1 to 4 passengers. This is a very economical price if we consider that you will travel safely, comfortably and punctually.
HOW TO GET BY CAB FROM NERJA TO GRANADA?
This is really wonderful; you can arrive at Granada by cab from Nerja in about 1 hour. If you used the bus, you would arrive at Granada in just over 3 hours and 45 minutes. That's not counting that you have to wait for the bus departure time.
The route of the cab from Nerja to Granada is as follows:
The cab driver takes the E-158/A-7 road from the Almería/N-340 road.
it follows the route along the E-15/A-7 and the E-902 towards Paseo Laguna de Cameros.
Then, the cab takes exit number 3 from the A-395 highway.
Then, it follows Paseo Laguna de Cameros, and then takes José Tamayo Street.
It continues along Av. de Cervantes, Paseo de la Bomba, and San Matías street, towards Gran Vía de Colón street, in Granada.
WHAT SHOULD YOU KNOW BEFORE VISITING GRANADA?
There are many neighborhoods in Granada that are different from each other. Therefore, you can experience a great diversity of cultures, traditions, and religions. Frosts are frequent in winter, but during the summer, it is common to enjoy temperatures of up to 35°C (95°F).
Of course, the main attraction of Granada is the Alhambra. However, keep in mind that only children under 12 years old can visit the place for free. There are also other places of interest in Granada that are worth visiting. For example, El Generalife; a garden area very close to the Alhambra or the Cathedral of Granada, which dates back to the 16th century.
---