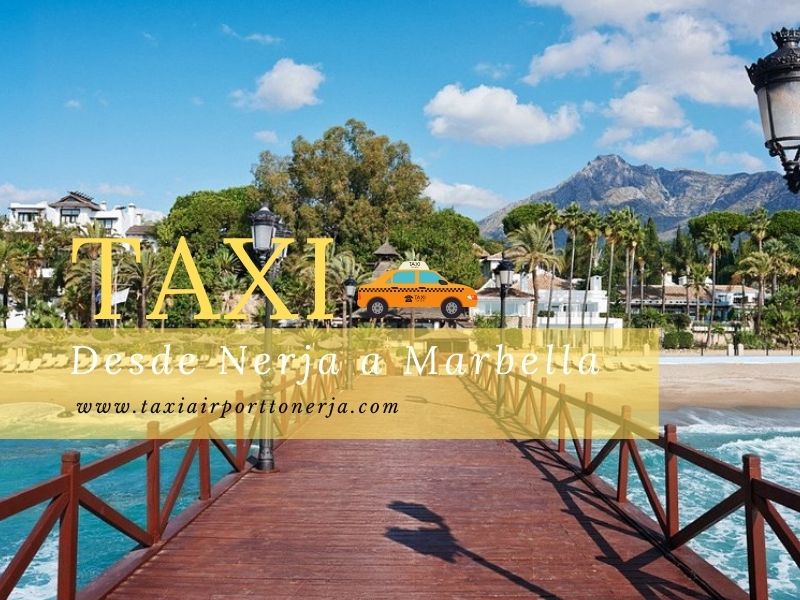 Marbella is one of the most popular tourist destinations on the Costa del Sol. Although you can arrive by bus or private car, a cab from Nerja to Marbella is the most recommended means of transport. In addition to safety and comfort, you will arrive at your destination quickly.
CAB NERJA MARBELLA
Unlike other transportation alternatives cab Nerja, Marbella offers you many benefits. For example, Nerja cab fares are much more affordable, considering the comfort, safety, and reliability, which a bus or rental car does not offer you.
Besides that, the taxi Nerja can pick you up at the point you want on time. Besides, you can book a cab Nerja Marbella at any time of the day, and from anywhere.
Definitively, the Nerja cab service is designed to meet your personal transportation needs. You just have to enjoy the ride without worrying about routes, or parking areas.
HOW MUCH DOES A CAB FROM NERJA TO MARBELLA COST?
The city of Marbella is located approximately 118 km from Nerja. Therefore, the transfer to this tourist destination is just over 1 hour. As we have said previously, distance and number of passengers are related to the price of Nerja cab service.
Therefore, if you want to know exactly how much a cab from Nerja to Marbella costs, check the Nerja taxi fares. Currently, the price of a cab Nerja to Marbella with 1 to 4 passengers is €135.
HOW TO GET BY CAB FROM NERJA TO MARBELLA?
Going by taxi to Marbella from Nerja is the fastest and safest choice. It will take you approximately 1 hour and 16 minutes to reach your destination. The route the cab takes is as follows:
The cab takes the E-15/A-7 road from Almeria/Av. De Pescia/N-340, and Av. Alcalde Antonio Villasclaras.
Then follow the E-15/A-7 road to the AR-7 towards Marbella.
Then, the cab takes exit 184 from the AP-7.
Finally, it takes the Arias de Velasco Avenue and Juan Alameda Street towards De Nabeul Avenue in Marbella.
WHAT SHOULD YOU KNOW BEFORE VISITING MARBELLA?
Marbella is a tourist city visited by a lot of people every year. However, if your idea is to quietly enjoy the city and its beaches, it is better not to travel during the high season.
In addition, although most visitors are focused on the beaches, Marbella also has an important historical and archaeological heritage. There are even several museums and cultural spaces that you can enjoy with your family.
There are also many interesting monuments and places in Marbella that are worth visiting. For example, the Old Town of Marbella will surprise you with its walled enclosure, and the Plaza de Los Naranjos. There are several important buildings around it.
If you are a nature and outdoor activities lover, we recommend you visit the botanical garden located in Paseo de la Alameda. You can even take a tour of the Avenida del Mar, there you will find ten sculptures made by Salvador Dalí.
---